LEARN | TWELVE, SEPTEMBER 2018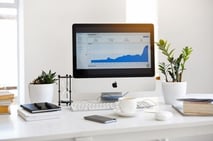 Inbox dread. We've all experienced it. After a weekend away, or even a lunch break, and you dread seeing your inbox filled again. Researchers at Carleton University recently reported business professionals now spend one third of their time at the office, and HALF of the time they work at home in their inbox. 30% of the time the emails were not important or urgent. That's 11.7 hours spent at work and 5.3 hours at home — every week. I don't know about you but I would gladly spend those 17 hours NOT in my inbox. Not only is it a drain on time it's a drain on energy.

A cluttered email inbox -- filled with old, unopened or unimportant messages -- will not only frustrate you. It will prevent you from maximizing your time and distract you from other obligations.

Here are a few strategies to create a more manageable inbox.

Batch!. Set specific time on your calendar for reading and responding to emails. Resist the urge to check it outside of this time. Setting up specific times to read and tackle your email helps prevent distraction every time a new message pops into your inbox. Turn your notifications off so you're not distracted outside of your time blocks dedicated to email. Consider using tools like Google's Pause Inbox feature.

Organize! Organize your inbox with labels, folders and categories. Prioritize your inbox. Group, sort and filing messages will help keep your inbox organized. The better your system, the easier it is to locate specific emails when you need them.

Unsubscribe! Seriously. Unsubscribe from marketing emails, social media notifications and unwanted emails. Sure, you might want to read that newsletter "someday" but realistically is that how you would choose to spend 15 extra minutes you might find yourself with? Less is more!

Delegate! Your awesome Delegate Team is skilled at managing your inbox for you, ensuring you only see what you need to see and know exactly what needs your response, and in some cases even responding for you. Imagine a perfectly organized inbox every day without any time spent on your part.

If you'd like to learn more about how Delegate can help you slay your inbox, check out our Case Study and see it in action!

Contributed by our Team Member, Amber W.