LEARN | TWELVE, DECEMBER 2019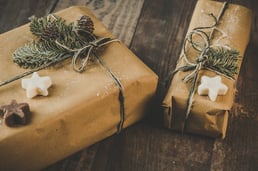 The end of the year is the season of giving. What better way to keep your clients at the top of their minds than with a unique, thoughtful gift that will help you stand out amongst the crowd? Below are 6 gift ideas from various price points that will be sure to "wow" recipients of all types.
Under $50
If you have many clients or employees to purchase gifts for, these gifts are budget-friendly, yet still distinct.
International snack box
For the adventurous client or employee that loves trying new foods, Universal Yums is a subscription-based snack box that sends snacks from different countries each month. The best part is you can give a box as a gift without having to purchase a subscription. One-time gift boxes range from $17 to $45 for one box, depending on the number of snacks you choose for the box.
Charity donation in their name
If you know your client or employee is a big supporter of a particular charity, consider making a donation to that charity in their name. Don't forget to include the donation certificate in their card so they can truly see how thoughtful your donation was.
$50 to $100
Everyone loves gift baskets, but these ideas will be sure to make your baskets stand out from all of the rest.
Regional cuisine basket
Do you have a client or employee from another country and want to give them a little taste of home? iGourmet makes gift baskets with snacks and foods from over 80 different countries across the world.
Sweets basket
The perfect gift basket for the entire office to share, this basket from Gift Tree includes various different sweets and snacks and a keepsake leather serving tray. You can also add a personalized message for free.
Over $100
Whether you're a big spender or want to do something a little extra for that special client or employee, these ideas are sure to stand out and make your gift memorable.
Customized painting of their office
Want to give a truly custom gift your client can hang up in their office and look at for years to come? Paint Your Life offers many different types of paintings (oil, charcoal, watercolor, etc.) of whatever photo you send them. Send in a photo of your client's office building for the perfect customized gift. (PS. They also paint portraits, animals, and landscapes, so you pick the perfect painting for your recipient)
A thoughtful experience
If you'd rather give your client or employee an experience rather than a tangible gift, considering purchasing tickets to an experience close to that person's interests. Ideas include a horseback riding tour for the animal lover, a wine and paint class for the creative client, or tickets for the whole family to their favorite sports team's game.
Have a safe and Happy Holiday season from all of us at Delegate Solutions! Happy gifting!
Contributed by our Team Member, Kaylee