HELLO | TWELVE, NOVEMBER 2018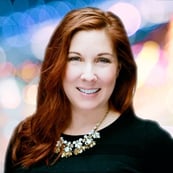 Happy Friday and welcome to the start of another beautiful month! I hope this gorgeous Fall season is treating you well. This time 12 years ago, I was about to have my son Nathan. As a mom, I remember the planning, the labor, the delivery and the sudden "parent" status - all of it a whirlwind experience. As an entrepreneur, bringing a new service or product line to market carries a similar weight for me. The excitement, joy, challenge and uncertainty all mirror my path into motherhood all those years ago.
Here at Delegate we are welcoming our new bundle of joy this month; our new EOS® Support service line! As an EOS® run company, we know the value and momentum that this approach to running a business can bring. A united team aligned around the same priorities, held accountable to those priorities and executing against them each week is an unstoppable force. That is the simple essence of EOS® (Entrepreneur's Operating System). Because we understand the intricacies of what it is to deploy EOS® in a business, we also have felt the challenges - particularly as it relates to the administrative component of daily execution.

We are bringing our delegation and accountability expertise to strategically support an EOS deployment. Our new Get More Traction® System ™ is designed to support the great work you are doing with your Implementer by making the day to day administrative management of EOS® within the company fully delegatable. We combine automation, delegation and proven efficiency strategies to help these entrepreneurial companies establish consistency with their EOS® deployment.

I'd like to personally invite you to our welcome party (aka webinar!) where we are going to dive into some of these delegation strategies live. Hope to see you there to meet the latest addition to our Delegate family!

Have an awesome month!
Emily
We are not affiliated with EOS Worldwide®