LEARN | TWELVE, NOVEMBER 2018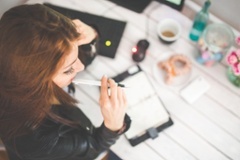 If you're always on the lookout for something to save you time around delegation, Strategic Coach® and Delegate Solutions may have the answer. In our work supporting entrepreneurs, we have found Strategic Coach's "Impact Filter" tool to help both you and your team understand the results you are looking for and take the burden of those tasks away from you.

First, let's talk about why "The Impact Filter™" is valuable in delegation. This tool allows you to get the project out of your head and specify what you want the ideal result to be. With everything broken down and clear results in front of everyone, your team can take over having everything they need to get started. Doing this simple prework allows you to save time explaining what you want because they already know.

Below is an example of the power of an Impact Filter in action:

Let's say you have a conference coming up where you're speaking one day and presenting an award another. Your Impact Filter states that your ideal results are for the speech to go smoothly and your presentation of the award to look professional. Now for this to be true, several things need to happen, and this is where delegation comes in.


Your assistant can now see the project mapped out the way you want it to happen. This allows them to start making travel plans so you arrive on time and oversee that they are coordinated with your plan.
They can help you set up that power point presentation so it looks is best leaving you to find the perfect content instead of wasting time finding the best setup.
They can call the venue to be sure they have equipment on hand that will allow you to share with the crowd.
Maybe part of your ideal outcome is that you will come back to the office after your trip without a million emails and scheduling calls to return. Knowing this your assistant can begin to create a process for how to handle each email and schedule call and meeting for when you return.
Now you've returned to a normal workday instead of the piles of messages and hours of unorganized emails to sort through. Maybe you just want to make sure all your travel information is in one place and you have a great reading list for the plane. The Impact Filter's uses are endless but the results are the same. Get the results your are looking for by incorporating this tool into your business practice and finally leverage your assistant.

If you'd like to learn more about Impact Filters and creating a Self-Managing company, check out Strategic Coach. If you're looking for help implementing what you are learning at Coach, let's talk!


Contributed by our Team Member, Amber G.