HELLO | TWELVE, JUNE 2020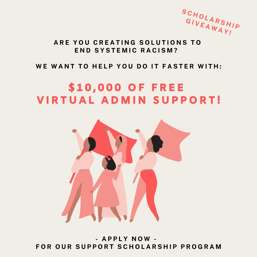 Happy Friday! Here at Delegate, helping others is what we do best. We want to put that to good use to confront the systemic racism that has created a divide in our country and continues to threaten the lives and livelihoods of our fellow Americans.
Do you know someone that is using their powers for good to fight systemic racism? We want to help them make an impact faster and have expanded our Support Scholarship Program and invite them to apply.
Now through June 15th, Delegate will be accepting applications for our new Virtual Support Scholarship Program. This program includes 6 months of virtual administrative support - nearly a $10,000 value! We want to bring our virtual administrative skillset to the front lines and support a company or individual who is making an impact in this fight. Who do you know who is doing creative work that will impact our society in profound ways during this time that could use some extra help?
We know the power of a great team all charging in the same direction, and we want to bring what we do best to help that person or company make an impact. So PLEASE share this with your friends and network! Our application process is simple and our team will be reviewing the applicants and selecting the applicant they feel we can help make the most impact.

Have an awesome Friday!
Emily