Whether or not your business is designated as "life sustaining", the COVID-19 pandemic has altered "business as usual" for a period of time that's yet to be determined. It's important to identify both defensive and offensive actions that will help you mitigate the risk to your business outcomes – both short-term and long-term.
Our friend Maria Baseggio, Professional EOS® Implementer, joined us on Facebook live and shared key actions your leadership team should take to effectively navigate these unchartered waters.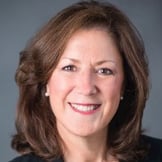 Maria is certified as a Professional EOS® Implementer. EOS® stands for Entrepreneurial Operating System®, which is a business operating system that helps owners and leadership teams get aligned on where they're taking the business and how they're going to get there. It helps them operationalize the day-to-day management of their business and also helps them adapt as the business world changes and new opportunities emerge – which is exactly the situation we're all in right now.

If you are looking for an effective way to increase your productivity and leverage your time, delegation is a great place to start! At Delegate, we love helping busy leaders and their teams focus on what they do best and add valuable time back to their lives.