Mike Brevik, CEO of Cyberdogz Marketing joined us live on Facebook for a 10-minute expert chat and shared the foundational truths around the power of a great brand.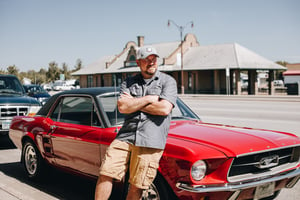 Mike Brevik is a Brand and Marketing Strategist who partners with startups and well established companies to grow their professional brands.
With 20+ years in the print, creative, and marketing industry, Mike spent over a decade of that time leading and building eCommerce solutions, Social Media strategies, and everything in between for two of the Midwest's largest retailers. Building relationships is key to Mike's approach and has enabled him to work with several premier brands from Nike, to Jordan, to Under Armour, to Harley Davidson, and many more along the way.
Mike knows what it takes to truly define a brand and build long lasting connections with consumers. It's how well you connect with the heart-beating people you're trying to help and communicate your understanding back to them. Building strategic partnerships with clients is central to everything Mike does and how he produces the greatest end results for his customers. Mike chooses to be an ambassador of the brands he serves and an extension of the teams he supports. It's this firm understanding of customer relationships that is at the foundation of the Cyberdogz Experience.
If you are looking for an effective way to increase your productivity and leverage your time, delegation is a great place to start! At Delegate, we love helping busy leaders and their teams focus on what they do best and add valuable time back to their lives.