HELLO | TWELVE, OCTOBER 2018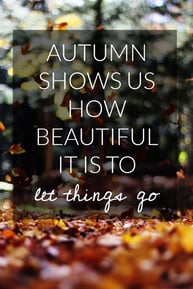 Welcome to October and the start of Q4! Fall is my always favorite time of year for many reasons, but maybe most of all for the sense of beautiful closure that it inherently brings. It's like nature's encouraging reminder to move on from summer and flow into a blaze of glory! My hope is that you are blazing new paths and creating amazing things going into this last quarter of the year.

As for me, I am thoroughly convinced that 40 is my personal best year yet! Delegate hit a huge milestone this week that has completely energized my team with pride and accomplishment. We are working on a brand new service line that launches shortly (more to come on that!), and my personal life is flourishing. Last night, I took the first step in a journey I saw for myself many years ago as I envisioned my own self-managing company -- I went back to school to study something I love-- just for fun! I have a student ID and everything! :)

For us this year, October is all about embracing the flow. Blame it on the cooler weather, the moon, the endless hours of meditation, or maybe just great people, hard work and luck culminating together. After over a decade in business, I will take the wins in stride; acknowledge them, celebrate them and keep moving forward. Wishing you an amazing Fall, filled with lots of FLOW for you and your business.
Have an awesome month!
Emily