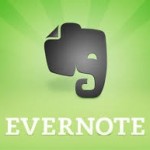 Evernote is a powerful tool that we use every day but most entrepreneurs don't realize just how useful this tool can be in their business. Below are just a few ways you can put this versatile workhorse to work for you!
Tagged digital notebooks
Task lists
Ideas/ research-- including web clippings, voice & photo notes
Digital, syncing virtual filing cabinet
Notebook sharing
Contact management
The secret to this tool being so resourceful is in it's tagging feature. Tagging meeting agendas, phone conference notes, scanned documents, business cards, full-sized web pages and bite-sized article clippings are just a few of the hundreds of ways Evernote can be used. Tags are assigned by each user to each note.
Here's a practical example: Say you had a lunch meeting last Thursday with John Smith about the new company "Gizmo". You create two new notebooks in Evernote: "John Smith" and "Gizmo." The receipt from your lunch meeting gets photographed by your smart phone; you then add the tags: "John Smith", "Gizmo" and "Receipt" in Evernote. The drawings that Mr. Smith sent to you via email can be uploaded to the "Gizmo Project" notebook with the tags: "John Smith," & "Gizmo." You can even include the webpage of Mr. Smith's side business - "Old Car Restorations," a hobby that you share, which can be clipped by Evernote's web clipper, with the tags: "John Smith," "Old Car Restorations," & "Hobbies;" all saved directly to the "John Smith" notebook. When Monday morning comes and you aren't quite sure where you placed those drawings, simply enter in "John Smith" in the search box and voila! There are the drawings you reviewed along with everything you wanted to remember about Mr. Smith.
Evernote notes can be copied to multiple notebooks. Individual notes and notebooks can be shared with anyone, anywhere via a link. In addition, Evernote's Trunk tool allows many platforms you already use to be integrated with your Evernote account, including project management systems. Imagine the possibilities of entering one search term and everything related to that tag appeared with one click. Now THAT'S a time saver!