HELLO | TWELVE, JANUARY 2021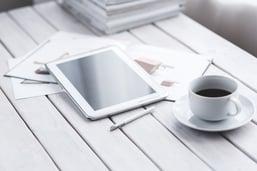 Happy Friday and welcome to nature's "fresh start" - January. I love the feeling of the New Year, when our hearts and minds are fresh with hope for a reset, a new opportunity to make an impact on ourselves and others.
My heart breaks that we find ourselves eight days into our fresh start and have already been forced with unthinkable shock and horror. Yet all we can do is keep moving, keep putting one foot in front of the other, and keep putting our best out into the world.
Whenever I start a new year, like many of you, I try to focus on a one word theme to set my intention for the year ahead. In a year where there simply are no words that can express what we are going through most days, thinking positively, keeping focused and thinking big are literal choices we are making to prop ourselves up to keep fighting the good fight. Last year, I selected the word "simplify" as my word for 2020. Little did I know, the Universe was going to simplify facets of my life I could not have anticipated. :) This year, I've been ruminating on this more deeply than ever, trying to select not only what felt right, but also what felt appropriate and achievable. After alot of thought and a moment of intuition, I've selected "Abundance" as my theme for 2021.

Tony Robbins says, "When you are grateful, fear disappears and abundance appears." In my meditation practice I have learned that what I focus on expands in abundance. Abundance I have also learned is a mindset choice. It's a mindset I have to focus on daily so that I don't shift over into a scarcity mindset. Abundance is a mindset we want to see in our clients as well; we've even added it to our VTO! So I feel super aligned and excited to direct my energy into gratitude and not fear and watch what happens with that active choice.
Here's to an abundant and kind 2021! It is what we make it.
Emily