HELLO | TWELVE, DECEMBER 2020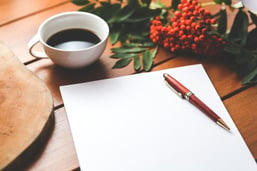 Happy Friday and welcome to our last edition of 12lite in 2020! When we wrote our New Years Resolutions back in January, none of us could have imagined how different our world would look only 12 months later. What we thought was so important and possible became completely obsolete in a matter of moments. As a daily meditator, something I have learned in my own practice is that what you focus on expands. If we choose to find the silver lining, and we choose to focus on the good by giving it more attention than the bad, we find more good. This past week, I asked the team to share their gratitude focused reflections for the year and we hope it brings you peace and comfort as you wind down this unforgettable year.
"I'm grateful for..."
"More family time together. Have dinner as a family for the first time on a weekday in years." - Alissa
"My husband and I are grateful for the scary moments and the ways we have had to stretch ourselves in 2020 as we feel more resilient and strong, as people and as a family." - Christa
"More time with loved ones and to reflect on what is truly important in life." - Alicia
"The quality time I have gotten with my son, Hudson, to create our own adventures and see and do things we probably wouldn't have." - Tara
"Having more time to read and catch-up on all of the amazing books I have missed!" - Tiffany P
"COVID helped prove, that as a family, we are a strong unit and that my circle is savage. God opened doors, not windows, for us on several big issues." - Becky
"I live in a beautiful place and have had the time with my family to explore the outdoors. That is something we wouldn't have had as much time for in a 'normal' year." -Michele
"The loving kindness of the people who have been placed in my life to help me grow as a mother, wife, and friend to be able to begin to figure out who I truly am meant to be." -LeAnn
"DS helped me build a strong foundation around positive focus, which has helped me stay calm and gratitude focused during all the chaos of this season in life." - Sarah
"Our family, our home, our health, and Netflix." - Tiffany W.
"My wonderful family, amazing neighbors and the kindness & generosity I see in my community every single day." - Ilene
"All the time I get to spend with my family. We were close before but we've grown even closer while navigating all the changes in our lives." - Kathy
"The chance to spend time with family and for my mobile job as our son, daughter-in-law and grandkids don't live near us." - Laura
"The stability and the chance to slow down and get creative with how we've spent our time together." - Cathy
And as for me, I'm grateful that I learned what being bored feels like! :)
And, to close out the final act of 2020, our team and their families recorded this epic video that is OUR Anthem for 2020!
Wishing you a hopeful and productive month ahead!
Emily