Championing Flexwork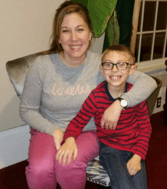 Happy Friday! I'm super proud this week to announce that Delegate made the Forbes Top 50 list of best Remote Companies! What makes me so proud of this, is that we are championing a different way to think about work and how to grow your company. We've always been a strong proponent and success story of flexwork, but it was an honor to be recognized for our efforts! Below is our story of how it all began!
When I first found out I was pregnant with my son, I cried. Honestly, I cried a lot! I was not ready to be a mom, was petrified of childbirth, and had not setup my life to accommodate such a huge change. I was newly married, none of my friends had started their families yet, and I didn't know the first thing about taking care of a baby. What I did know was that my vision of parenting did not include long work commutes and 40-50 hours in a company office each week.
I was raised by a teacher and a teacher/stay-at-home mom, so this "available" parenting setup was all I knew. My mom was there to get us to and from school, my dad had summers off; it was quite idyllic. I knew I definitely wanted some form of that availability for my son, but I also still wanted to continue to evolve professionally (plus we needed my income!).
Enter Leadership Coach, Jackie Lesser Faust, and a conversation I had with her at this critical point in my life ten years ago, which changed my trajectory from employee to entrepreneur. Her insight put me on a path to meet with someone who had been supported remotely by her assistant. Given my extensive administrative background coupled with my news of impending motherhood, I immediately wanted to learn more. So in 2006, I researched, had my son, researched some more, and decided to open Delegate Solutions. Why not? :)
A decade later, and now a single mom, my company has over 25 people working flexibly and remotely from home across the country (most of which are moms and dads!). We've evolved our work, our team and our operation to strategically support entreps and execs in America, Canada, and Europe. Our Mission is to help reshape the culture of the traditional workforce into one that values quality, flexibility, contribution and effectiveness.
We are committed to creating a workplace that complements our team member's lives in meaningful ways. And in turn, we will help other companies do the same.
Have a great month!
Emily