How to Make the Hard Things Easier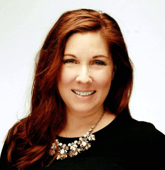 Welcome to August and another great week of summer! I'm back from a life-changing trip to Paris to
celebrate my
40th, and my son has been spending the week at Boy Scout Camp, so it's been a great block of t
ime for me to refresh and refocus my energies on what matters most
to me. It's been so needed! As a leader, every day it seems I am faced with hard things - hard choices, hard conversations, hard situations.. it's exhausting on so many levels. But I've learned some tricks along the way that have helped me stay energized, focused and balanced in dealing with the hard things. I hope that they are helpful to you, and would love to hear your strategies to stay prepared for the hard parts in your life and business.

1. Shore up as many predictable things as you can to provide some balance to compliment whatever hard things you are working through each week. A solid foundation creates space for comfort during periods of uncertainty. This could be having a solid hiring process, having predictable revenue, making sure you have a dog sitter at the ready, or even having a solid amount of cash in your savings. Line these things up as you identify them so it's one less thing to have to problem-solve in the moment.
2. Protect your time. If your week is all over the map, your attention is not focused and can feel out of control. Having a handle on your time is a key area of self-care. Layer in a gatekeeper to manage your schedule and help you anticipate and plan for your week. Segment your days by activities that give you energy vs days to deal with the fires and nonsense. Adding this layer of intentionality into your life helps you stay in the right mindset to problem-solve because you are more focused and organized.
3. Surround yourself with the best people. Commit to putting together a solid team who recognizes where you fall short and improvises to help you get it done. The value of working collaboratively is a mindset that starts at the top with you. Being willing to bring other people into the process or conversation can help you empower them to contribute and also elevates you and your focus. Additionally, have a entrepreneurial leader tribe/mastermind/accountability group outside of the business that you can count on to provide trusted, objective feedback as needed. I could not live without my mastermind groups or my Leadership Team. Gamechanger stuff!

I'd love to hear your success strategies, so please do share! Have an awesome month!
Emily