Believe (in) the Hype!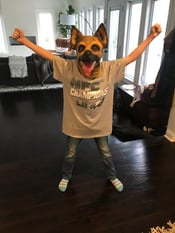 It's an e
xciting start to the weekend
here in Philadelphia.
Our Eagles are Super Bowl bound
, and our city's energy level is at an unprecendented height. To the right, my son- Underdog Nathan- headed off to school today. :)
I've been a rabid Eagles fan my entire life. Growing up, I remember the days of Buddy Ryan. My grandmother, a die-hard Iggles fan, used to sit outside in her green satin embroidered Eagles jacket listening to the game on the radio and cheering on our team. Even before I really understood the game, I had an ingrained love for the Eagles and the sport.
For those of you who are not local and don't get the hype, please know that it's been an *incredibly* emotional ride for Philly fans. My father, a stoic guy, has had his heart broken so many times as a fan that he cannot even watch the live games anymore. He actually records the games and will watch them after the fact once he knows the outcome.
But there is something special about THIS team, THIS season that as us all believing that we can take down the Pats. Watching Carson play all season, I named him the "magical unicorn." He and Doug have been able to unite an entire team around them with sincerity and an all-in mindset. To see a united, positive, effective team dominate like this has been a dream come true for this Philly girl and millions of others in our city. Watching them play this season was a gift in itself-- they played the way we always dreamed our team would play.
Yes, we are superstitious, and animated, and emotional, but it comes from a place of love and pride. The hype is real and makes me so proud to be an Eagles fan. We've got the heart, the soul and the skills to win Sunday.
GO BIRDS!!!
Emily