On Turning 40!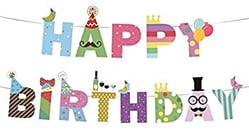 Welcome to May, my birthday month! This year it's a big one, I'm turning 40!!! I'm very excited about my 40s, because with age comes wisdom and lots of experiences to inform future decisions... Or at least that's what my grownup self says! :) So as I reflect back and look forward, below are a few of the most important lessons I've learned over the years.
It takes years to be an overnight success. Ask around, you'll hear it from anyone successful you talk to.

The days are long but the years are short.. especially when it comes to raising kids. Cherish them.

Today's drama is tomorrow's history. I learn this one like every.single.day.

Speak what you desire into the universe. It's a vacuum and wants to serve you well.

Health is wealth. Without our health nothing else matters.

Driving with the top down is PURE therapy. You'll find me doing that any day that it's warm enough.

Integrity is everything. There's no room for compromise here. At the end of the day, you're all you've got.

Boundaries give us freedom. They allow us to protect and preserve ourselves and create space for growth and awesome things to bloom.

Progress not perfection. Just take the next step forward.

Be a good listener and a good friend. I say that to my son every day he walks out the door for school, but it works at any age.
One of my favorite quotes on this momentous of years is from Carrie Bradshaw (Sex and the City): "Your 30s are to clean up the mess you made in your 20s. Your 40s are to pay for the drinks!" Looking forward to crossing over to this new decade with you all - Cheers, light and love everyone!
Have an awesome month, I know I will!