HELLO | TWELVE, FEBRUARY 2020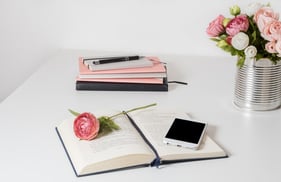 Happy Friday! It's a rainy, blustery day here in Philly, and another busy week at Delegate. This week I was part of a doctoral research study looking at single-parent females who have become entrepreneurs. I was one of 35 participants questioned. The researcher asked me some deep questions around my own path and motivations with starting Delegate while raising my son.
I became a single parent when my son Nathan was 4 and Delegate was 3. Now nearly ten years later, it was interesting to look back and think about my journey building a company and raising a son by myself. One of the questions presented was "how do you manage to do both well?" After thinking on this, for me it came down to three things: 1: Boundaries 2: A can't fail mindset and 3: Delegating.
When it comes to boundaries, to me it is about protecting my time and energy. I know that in order to excel with either, I need to be able to focus. Some examples of this for me are protecting my work hours, and protecting my downtime. When I'm not working, I'm not checking email nights or weekends. When Nathan has no school, I try not to work. My can't fail mindset is one part tenacity, one part adaptability and one part problem solving. I know that in order for us to have the life we want, I am the one that has to make that happen.
When it comes to my favorite topic (delegation!), teamwork makes the dream work. I have a Leadership Team I trust who is empowered to make decisions on my behalf. I have an Assistant who has my back no matter what and makes me look like a rockstar. And I have help at home with everything from cutting the lawn to cleaning the house. While I always believe in a little luck, none of this would be possible without the support of a great life team, a clear mind and really clear boundaries.

Have an awesome Friday!
Emily