HELLO | TWELVE, january 2019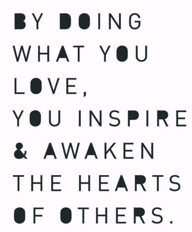 Happy Friday and February to you! It's the month of love and there's not much that can top the fulfilling feeling of doing work that inspires you. One of my favorite entrepreneurial thought leaders, Dan Sullivan of Strategic Coach® teaches that "the most successful people are those who have learned how to focus on and leverage their unique strengths. In other words, they build their lives around their abilities, not their disabilities." He began talking about his realizations as "Unique Ability®," the essence of what you love to do and naturally do best.
This intrinsic drive to do work that I'm passionate about, coupled with an awareness that the impact of my work creates real value for others is what keeps me going when things get hard. Eleven years of growing a business and a team, creating a value proposition that resonates and then relying on others to deliver on all of those promises takes a toll on any leader. Having awareness around my own Unique Ability, and intentionally acknowledging the impact that the work that I do has on my team and our clients is what keeps me going personally. Understanding this uniqueness in yourself is the key to finding work you love that you're excited about even when the days get hard.


I feel grateful, lucky and blessed to understand my own Unique Ability, and to have the ability to apply that knowledge to build something that I am proud of and energized by. You can run through this same exercise yourself using this workbook. It's a great Valentine's present to give yourself! ♥


Have an awesome month!
Emily