Looking for a quick, fun summer biz read with maximum impact for your bottom line? Be sure to check out Mike's new book, Profit First. The title says it all!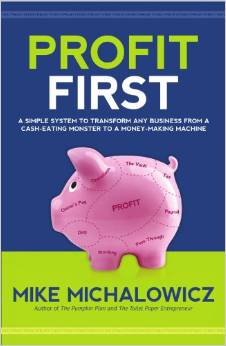 I'm the first to admit -I'm terrible with math and numbers! But even this equation I can follow:
Revenue - Profit = Expenses
Say what?! That equation goes against everything we've been taught about how to manage the finances of our business! In Profit First, Mike Michalowicz, author of The Pumpkin Plan & The Toilet Paper Entrepreneur, suggests a different approach, one that works with human behavior. Instead of putting sales and expenses at the top, put sales and profit at the top. What gets measured gets managed. Start putting profit at the top, and you will start managing profit. Finally.
Why does this work? Because traditional accounting is logic based. It makes sense, logically. But Mike argues that humans aren't logical beasts, we are emotional animals. So, traditional accounting actually hurts us.
Traditional accounting has us focus on sales, then direct expenses, then indirect expenses, then taxes, then distributions (owner pay or profit). The first things we focus on are sales and expenses. That is what gets measured. So most companies focus on increasing sales and managing expenses. Not so coincidentally most businesses increase sales and the expenses that go with it.
If you're tired of the panic-driven cycle of operating check-to-check, this new method is the easiest and smartest way to ensure your business becomes wildly (and permanently) profitable from your very next deposit forward.
Not convinced? Download the first FIVE chapters of this book for free courtesy of MM and really dig into the system.
PS- As an extra bonus resource, Mike asked me to share with you that to support the new Profit First mentality, he's created www.ProfitFirstProfessionals.com. This site helps people looking for a bookkeeper or accountant who can help them implement profit first. And or for folks who want to help others implement profit first.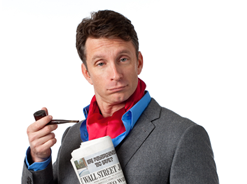 We love you Mike! Ya big goofy genius!