KNOW | TWELVE, MARCH 2020
5 Ways Middle Market Companies Can Kickstart Growth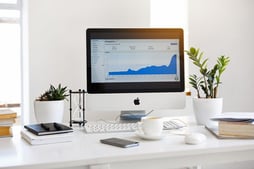 What happens when your company stalls in its growth? What can you do to get it back on track? Research has identified 5 areas of improvement for companies that have stalled on their way to the middle market. Check out this great, quick read on kick starting growth for mid-market businesses. Here are a few key takeaways.

1. Alignment
How to achieve it: Well-aligned companies identify a market they know well and where they are positioned to win a high percentage of deals; set the timing of major milestones such as fundraising rounds; and treat talent acquisition and leadership development as a core strategy.

2. Discipline
How to achieve it: This gets down to process. Regularly scheduled performance reviews and established metrics that are tied to compensation, for example, indicate a commitment to setting clear expectations and accountability systems. Pricing also benefits from standardization. Companies with discipline also establish impartial oversight by independent board members and financial auditors.

3. Predictability
How to achieve it: A well-managed sales pipeline is crucial, as is the ability to extensively use financial data to set and communicate performance goals and support forecasting. A culture of honesty will prevent teams from trying to inflate expectations or sweep problems under the rug.

4. Endurance
How to achieve it: Enduring companies need tightly structured compensation and benefits programs; recognition programs and learning and development opportunities; and leaders who inspire confidence that the business will meet or exceed yearly forecasts.

5. Value Creation
How to achieve it: It's your job--and that of your stakeholders--to grasp the operational outcomes that create value in your company. It's also your job to be transparent with your employees about your capitalization tables and ownership structures.

For more insight, check out the full article! - INC.COM



7 Movies on Netflix All Entrepreneurs Should Watch

Looking for something entertaining, inspirational and possibly even educational? We found this great article outlining the 7 must-watch movies on Netflix for entrepreneurs. Here they are!
1. Fyre: The Greatest Party that Never Happened
The film offers some important lessons for entrepreneurs, in particular anyone interested in using influencer marketing as a way to quickly grow your company. You can hire the most popular celebrities and influencers to promote your brand, but that's not what will make your company a success. Make sure you set expectations you can actually attain and, most of all, provide customers with a satisfactory experience.

2. The Pursuit of Happyness
What should we learn from this movie? We all face moments of desperation (although most of us are lucky enough to never face the extreme hardships Gardner had to overcome). But no matter how bad things get, you have to keep moving forward and believing in your dream.

3. Yes Man
The basic premise of Yes Man is simple: Say yes to everything in life. That's because life, with all of its chaos, danger and fun, is meant to be fully embraced. In the film, Carl Allen is a man who basically lives to say no to everything. Completely stuck in a negative mindset, Carl attends a self-help conference based on the concept of saying yes to any question thrown his way. In the end, Carl realizes he's taken the "yes" exercise a little too far, but he's changed for the better.

4. The Theory of Everything
The late Stephen Hawking was one of the most brilliant and influential scientists of our time. But as well as harboring an exemplary scientific mind, he was an extraordinary man. Key takeaways: Never stop asking questions. Hawking let nothing hold him back or keep him from his goal of creating something great out of his life. He proved time and again that life can give us great things if we are brave enough to dream, believe and work hard. If you love a great story of persistence and grit, don't pass this up.

5. Steve Jobs
Some crucial insights offered by the movie: What Steve Jobs lacked in skills, he made up for in vision. He wasn't a computer coder, a marketer or an engineer, yet without him, Apple would not exist. He didn't care about being liked, and he didn't let himself get bogged down by outmoded paradigms. He had a vision of affordable computing for all, and he let nothing stand in the way of accomplishing that goal.

6. The Boy Who Harnessed the Wind
What can entrepreneurs learn from this story? Necessity is the mother of invention, and knowledge is power. Also, every venture comes with inherent risk, but every risk creates new opportunities. The key is that you must not let your doubts hold you back. Even in failure, there are lessons to be learned and new goals to move on to.

7. Inception
Viewed from the standpoint of a professional marketer, Inception has several important insights. For one, every startup that is attempting to raise money from investors is essentially trying to sell a dream and hoping to get investors to see that dream as their own. Successful marketing is also based on the idea of a well-crafted, authentic message that resonates with a targeted audience. Done correctly, "inception marketing" exerts a subtle influence on the audience, so it feels natural, almost like it was their own idea.

Take a look at the full article for links to these films, as well as additional insight! - Entrepreneur.com