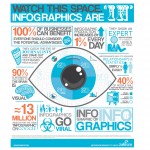 Creating Great Infographics
Tell a beautiful data story through visual
interpretation using infographics. Successful
infographics present compelling information with a unique angle. Once created, make it as easy as possible for people to share your graphic. Include an html embed code so others can re-post it easily on their sites. Add social media sharing buttons so it can be shared with social networks. Get creative, and SEO as you would a blog post. You can easily create your own FREE infographic on any of these sites: Visual.ly; Infogr.am; Piktochart. Just bring your data, select a template, customize and share!
Below is a great infographic made completely shareable by it's creators: