Soft Skills Support Anything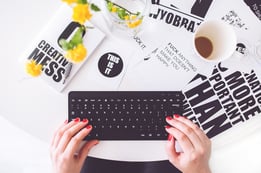 Structure creates a clean process. Planning and following methodologies are proven to streamline and create efficiencies no matter the business size. There are several programs and philosophies that entrepreneurs and businesses follow in order to set and achieve goals, while analyzing roles and creating processes to grow and move forward at a record pace.
Some of the more popular programs that focus on these key components include:
EOS®, the Entrepreneurial Operating System, which is a set of concepts and practical tools that help corporate leadership teams implement growth strategies systematically.
Strategic Coach®, a business coaching program focused on individual entrepreneurs and how they grow both individually and, in their business, utilizing key tools and personal coaches.
And of course, Tony Robbins, with his popular seminars and online workshops that focus on improvement on a personal and business level. Plus, many others that seem to all strive for the same end goals – strategize, systemize, improve and analyze.
For all these programs, the executive and leadership team support require experienced strategic support team members that are educated on the program goals, but more importantly, always keep the primary goal of leveraging time in mind. The tools and processes are similar in structured meetings/agendas, vision and goal setting tools and tracking mechanisms, plus process evaluation and execution strategies. Companies like Delegate Solutions specialize in utilizing the tool or method of choice, while keeping the end goal of leveraging the time of executive teams.
The hard skills of the support team behind daily execution of any of these programs is similar. Organized, excellent follow through, detail oriented, self-starter, professional…but equally as important are the soft skills that build a relationship - versus simply executing a job description. Dr. Ken Blanchard, author of The One Minute Manager, has agreed that intangible traits are key - "For the Blanchard Companies, the people skills and being in line with our core values are the most important thing. Everything else can be taught."

All the entrepreneurial programs above create helpful tools that assist in assessment and solution discussions. So, when an executive is defining what they need from their assistant on a daily basis – it may be helpful to not only run down the checklist of the usual hard skills needed for strategic support – but check off the below soft skills:
Hyper Focused

:

standard MO -- prioritize, focus, execute, repeat.

Figure it out

:

engineer type by nature; if answer is not available – finds it. Can learn a new app or tool in a day.

Tenacity

:

persistent like a bulldog; follows up behind the scenes so you have confidence all bases are covered

Anticipation

:

always looking for what is coming around the corner; setting you up to succeed long term

Time is most valuable

: protecting your time to focus on top priorities; standing firm at the gate to your schedule

Accuracy is second nature

: you don't have time to circle back and cross check; details should always be covered

Confidentiality:

good judgement whatever the situation

Loyal, with opinions

.

Always dedicated, but articulates opinions (even if differing from yours) and acts as sounding board

Take away the distractions.

Helping you delegate anything that is non-essential

Professional no matter the audience

.

Represents you well both internally and externally; full trust in decisions

Integrity / Core Values

:

Represent class and integrity; protect the reputation of leadership and company

Ideas in their sleep

.

Always thinking about innovative ideas to streamline and improve operations.

Good Instincts / Decisions

.

Always keeping executive and corporate vision in mind. Act as an extension of you.

Enjoys lists and goals

.

Always creates order out of chaos and streamlines your creative thoughts.

Sense of humor

:

stop and enjoy a good joke to take the edge off
Success has many definitions:

knowing what goals are most important to you; setting you up to focus on them
Bottom line, if your right hand person has the hard skills and experience to support whatever program, tool or app of your choice (if you are working with

Delegate Solutions

this is a given!) – then do a quick checklist of soft skills and if all the boxes are filled – you gain the confidence that support team members in your corner are high performing, consummate professionals who understand you and your business so thoroughly that your team can adapt as you come to each cross road.




Contributed by our Team Member, Brooke