How to Delegate Your Email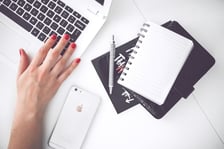 The dreaded inbox-inundated with emails that range from terribly pointless to absolutely vital-can be Public Enemy #1 of any business leader. With creativity flowing, and the need for space and time to work on important ideas and tasks, spending time with tactical email support becomes less of a priority. To ensure you are maintaining a strategic email organization regimen, it is important to develop some organizational habits that are catered to your specific needs and skills. Below are a few of our favorite best practices that you can implement today!
FIRST: DETERMINE YOUR STYLE & ASSESS YOUR HABITS
Inbox delegation should be viewed as a spectrum. At the entry level, inbox delegation can just mean getting help with unsubscribes or better organizing the inbox. To others, it's helpful to have someone in the inbox periodically throughout the day prioritizing the emails. On the far end of the spectrum, some of our clients never touch their email again! We simply manage the communication each day and provide a recap and list of action items. Assess where you stand in that mix, and remember the hardest part of inbox delegation is breaking your own bad habits.
NEXT:....GET INTERNAL COMMUNICATION OUT OF EMAIL
One of our goals through inbox delegation is to minimize internal communication. This not only cuts down on time and energy expended on inbox management, but it also creates a way to remain organized. Here are some hacks we find to be lifesavers!
Scheduling appointments and meetings: Sign up for a free scheduling software, like Calendly or Acuity Scheduling. Including your personalized scheduling link in your email signature, means anyone can go into your personalized calendar and pick a date and time that works for them in your arranged schedule. The different scheduling software can even send you and the other participant reminders of the meeting and upload it right to a google or outlook calendar.
Task generation and Project management: use pipeline and strategic task support CRM's like Asana instead of piling up on emails. For example, Asana is an attractive, easy-to-use, easy-to-integrate system that you and your whole team can participate in to create projects, multi-layered tasks, and even contact lists.
General discussions: Save the hassle of reading through threads and searching for responses in a weighed-down inbox. Adopt an instant messaging software like Slack that has phone and desktop applications, easy notifications, scheduling reminders, and even integrates with Asana. Pairing all these together makes for systematic organizational habits to grow.
LASTLY... MONITOR TRENDS AND ADD AUTOMATIONS
Notice any recurring email types that could benefit from automations and save you time in response and management? Using Zapier, you can create a zap into Asana as a task for you to enter into a CRM to spare that unnecessary email of someone asking you to create a project. If someone is interested in creating a project and sends it through email, you can still plug in the entire email by sending it to Asana for a task. Simply email x@mail.asana.com with the information you would like in the task, and it will automatically populate in Asana!
Another great idea is to create a Standard Operating Procedure (SOP) for how emails should be managed and filed away to have a clear idea on how to organize and maintain an email. The pattern should be stuck to, so you can develop the habit of remaining inbox orderly. Yet, it should also be revisited every so often to make sure your plan of action is continuing to work for inbox management.

IN THE END… the goal is to not allow yourself to get lost in the confusion of a sea of emails, reduce anxiety, and find solace in your desired structure. By keeping up with different organization tactics and software, you too can remain an on-the-pulse, orderly entrepreneur, who saves time to do the things you really love.
Contributed by our Team Member, Ela