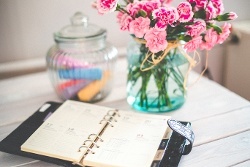 Protect Less
It's not a surprise to anyone how quickly the world moves these days. Technology changes daily, or perhaps even more often than that. We have instant access to information, status updates, shopping, news, television, even food! Everywhere I turn, the perceived message is that faster is better. And who doesn't want more time? If something can be achieved quicker, that would technically mean more time for......what exactly? More information, status updates, shopping, news, TV? Yikes!

We now have the Instant Pot to make our meal times quicker. Amazon has a one-hour delivery option so you can make purchases from home (save drive time and no lines!) and have it dropped off to you almost instantly. Missed your favorite television episode, or found a new-to-you series that aired 3 years ago? There are lots of options to catch up immediately....and then some. Ok, I do appreciate the DVR – even more so during campaign season. We can provide instant updates on our 'new favs' or exciting adventures (trip to the dentist?!) to everyone we know, and even more that we don't. Even audio books have a speed option. And who doesn't know about the sandwich chain that provides Freakishly Fast delivery?



It's easy to think we will have more time if we accomplish things quicker. However, the reality is we aren't really opening up more time, we are incrementally experiencing less and less because we keep filling our open time with....more. I've begun utilizing calendar blocks to section out my day, including free time, and I've removed social apps and work email from my mobile. These are a start and they help a little, but practicing mindfulness and presence are my new goals. How do you protect your downtime so it doesn't get stolen by more?
Contributed by our Team Member, Cathy