How to Organize your Inspiration
Today's entrepreneur is busier than ever with numerous meetings, multiple calendars to be cognizant of, tending to the day-to-day operations, not to mention extinguishing any fires that come up. Can you relate? It can be challenging to make time for inspiration. Yet it is beneficial to expose ourselves to information that motivates us to grow and transcend. Here are some ideas to help keep the creative juices flowing for the busy person on the go: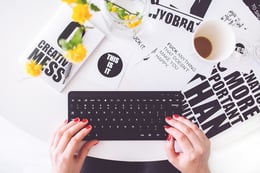 Reading is arguably at the top of the list of ways to stir up some inspiration. A google search of "Reading for Entrepreneurs" gives us a multitude of great book options. If you feel you do not have as much time to read as you would like, or wish to diversify your sources of inspiration, options are out there and we can help you identify one that is right for you.
Podcasts certainly offer sources of inspiration on the go. Podcasts exist on innumerable topics and can be listened to on demand, when it fits into your schedule. Listeners can easily search for topics of interest. If you find a podcast you particularly enjoy, it is easy to subscribe and be notified when a new episode is available. Listen to podcasts in the car, on your laptop, mobile device, etc. You might even be inspired to create your own.

Too busy to read you say? Or perhaps you cannot sit still long enough to concentrate on a book. Blinkist is a service which condenses nonfiction books into the fundamental insights found within, which are dubbed "blinks". Blinks are typically 15 minute reads or you can listen to them as well if you prefer audio. 2000+ books are available to choose from. This can be a handy tool for providing main points. You can also utilize this service to decide if you want to read a book in its entirety or go on to the next.
Have you subscribed to newsletters or blogs that interest you and suddenly your inbox is flooded? Consider having certain emails put into a folder or forwarded as part of your email management. Evernote could be a viable option if you want certain correspondence separate from email. Having access to the emails that interest you outside of your inbox and away from any distractions that might be lurking there could help you focus on the inspirations at hand. It is possible to use Zapier to forward emails to Evernote to automate the process and we can help you do it!
Flipboard is a resource that gathers content from news feeds, social media, and a variety of websites, and packages it up into a magazine layout that users can flip through. You can specify your interests and save articles if you want to reference it later. We can assist you by setting up your account.
Consider having Delegate Solutions research ways to stay inspired that are right for you and execute the set up. We can offer a personalized approach to helping you access your inspiration more easily!
Contributed by our Team Member, Cassie