Living the Flexwork Dream … at Delegate!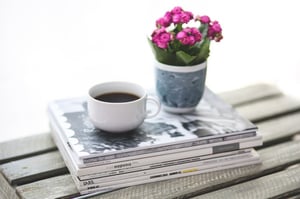 When we think about working remotely, and what it means to our work/life balance, a number of thoughts come to mind. It's awesome to have flexibility in our career, create our own schedule and have freedom and autonomy to make it our own day. For morning people, we get up early and are hard at work before the sun comes up and for those of us who are night owls, we quiet the chaos of the day and settle in to work during the peaceful moments when everyone else is asleep. Juggling kids, chores and commitments of daily life, all while making money, is an art form; one that we at Delegate thrive on and LOVE.
There are some HUGE advantages to working successfully from home, but there are also some cool "real life" benefits that make our home office right where we want to be when we start our work day. Sure, some of us may miss the water cooler chit chat, the comradery of Donut Day or Pizza Friday at the office. We can forget about long morning and evening commutes, books on tape, putting your makeup on while driving, or spilling coffee all over your brand-new outfit, we are working at home and it's right where we want to be.

Our families also LOVE the fact that we work at home. Moms and dads at Delegate will be their first to tell you all of the great things happening with their children and grandchildren. We help our kids prepare for a wedding, get to graduation practice, make their soccer or baseball games, playdates or simply take a walk with your child over lunch. We can attend a school event without stalking the clock or squeezing in another minute of time off. Some of us even get to join our spouse (who also works remotely) for a lunch date in the kitchen.
And let's not forget our pets. Can you imagine if our pets could talk – we "remote workers" are simply an invasion of their privacy. One thing we NOW know about our pets is what they do all day-- no more doggy daycare, no more coming home to disarray and havoc. Barking, chewing, whining, chasing neighbors, squirrels or the mailman, all of this was once their own little secret.
Truth be told… who isn't happy they get to the UPS package before their spouse comes home, and for those of us whose office was once a basement or office with no windows or as some like to call it "working in a cave", how awesome is it to actually know what is happening with the weather. If there are no video or client calls for work today…then the dress code is on your terms; sweatpants, yoga pants, hair ties and sans makeup, perfect for a quick trip to the gym over lunch, or a jog around the block. And guess what, there is no one who is going to judge because we all work to get the job done not just to fill 40 hours in a week.
Humor aside, we are all dedicated to our work and families, we are productive and strive for the essence of work/life balance. Working remotely helps us achieve this delicate balance. We truly are living the Flexwork dream here at Delegate!
Contributed by our Team Member, Dana