Daily Planning Tips for Entrepreneurs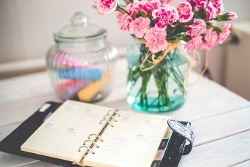 One of the most common problems we see with entrepreneurs is finding time in an already busy schedule to focus on things that will grow their business. Here are a few tips to help you create margin in your daily schedule.
Delegate!
You can do anything, but you can't do everything. It's hard to let go of control, especially when you're an entrepreneur. The idea "If you want something done right you have to do it yourself" is engrained in many of us but it's simply not true. Utilize your strategic team to tackle tasks that take your focus off growing your business and put their skills to work.
Get Organized!
Being organized is the best way to keep yourself focus and prevent you from getting overwhelmed. Create priority lists and write down your long term and short-term goals. Get all those ideas and necessary "to do's" out of your head and write them down. Asana is a great tool for this as it allows you to organize your tasks, projects and goals while creating accountability for your team. Creating processes to streamline workflows will help you get and stay organized and productive. Your strategic team is well skilled at helping you do just that!
Utilize Your Calendar!
Planning ahead and creating time in your weekly schedule for business growth is key to success. If you don't make the time you'll never find the time. Utilize time blocks to fully focus your energies on activities that will grow your business in meaningful ways and helps avoid the "hamster wheel" effect. Implementing a time management system will help you focus your efforts on the right things at the right time.
Realize It's OK to Say No
You don't have to attend every event or function. While networking is important it can quickly become a distraction and stretch you so thin you aren't able to focus on business your own business. Remember sometimes saying No to something good allows you the freedom to say yes to something GREAT.
Schedule Time for YOU
It's so easy to focus only on your business, especially as you work to grow your business to the next level, however it is vital to create space in your calendar for you. Time away from the business and focused on yourself, friends and family. When you constantly over extend yourself you lose focus, you're less productive and burn out happens before you realize it. Be sure to schedule at least 1 day a week in your calendar for you. You can't pour from an empty cup so take time to refill!

The Butterfly Effect shows us that a very small change can create a significantly different outcome. Start small and you will start to see the impact on your business. And remember, progress not perfection is the goal!
Contributed by our Team Member, Amber W.