In the U.S., April 15th is a date known by most and dreaded by many. If you are like a lot of business owners and entrepreneurs filing taxes can certainly be anxiety-producing. This is why organization and record-keeping is so important for a successful filing session. Whether you're doing your taxes yourself or getting assistance from a professional, an invoicing system is key. Fortunately, there are many different applications and programs that can help prevent you from going through a stressful filing – even some that are free!
One of the many options available is Invoice Journal – www.invoicejournal.com. Invoice Journal is a simple web-based application which allows you to create and

customize your company invoice. It has many different features such as automatically calculating taxes and fees or applying discounts. It can also help you import client and product data as well as assist in managing your inventory. There are several levels of options available to assist you including their standard level which is free of charge!
Freshbooks is another awesome web-based program to try at http://www.freshbooks.com/.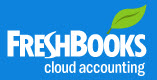 Upgrade your look by creating a snappy new Freshbooks invoice and have the associated tracking and data entry done for you. All you have to do is add your logo, payment terms and client info, then watch totals and taxes get calculated for you (plus have it automatically pulled into your reports). You can send an invoice in any currency, too. It's simple because getting paid should be hassle-free.
We all know that filing taxes is required by Uncle Sam - so why not take advantage of one of the many invoice programs available to you and establish a good record keeping system today? Even if you've already filed your taxes this year, it's never too early to start organizing your invoices for the future!
Contributed by our Team Member, Amanda