Delegation: Effective Strategies for Success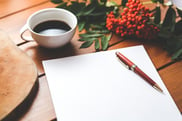 For those new to the world of delegation, it can be a daunting - albeit, necessary -undertaking. What do you delegate? Repetitive work items? Personal chores that have taken a backseat? Email management? One of the biggest hurdles is knowing where to start. My suggestion? Keep it simple.
Get Organized. One of the most common issues I see is an entrepreneur that has a system… in a dozen places! Sticky notes, a bullet journal, calendar reminders, a napkin you snagged at Starbucks – having all your to do's spread across a variety of programs and locations is a drain on your productivity. While it may take some getting used to, finding a single tool to utilize for task management will help bring clarity, transparency, and focus to your delegation strategy.
Learn to Let Go. This can be one of the most challenging issues you face as you begin delegating. People take pride in their work and can feel uncomfortable at the idea of letting someone else complete – or even simply help – to complete your work. Other times, there's concern that your team may not have the right set of skills or abilities to ensure the work is properly completed.
Whatever may be holding you back, your top priority needs to be learning to let go. Start small with non-critical items, invest your time in training your team with how you like things to be handed, and begin building trust. Over time, the process will get easier!
Don't skimp on the details. Don't just give your team a general picture of what you want to accomplish – include all the necessary information to ensure success. Straightforward instructions out of the gate will avoid most communication mishaps and ensure that tasks are properly executed. Be sure to include important deadlines, your expectations for the quality and completion of the task, as well as any pertinent access information.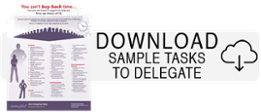 Give Feedback. Any time you delegate a task, be sure to provide feedback on the end result – whether positive or constructive. Feedback is an essential part of the delegation process, and it works both ways. If your team successfully completed a task you assigned, let them know they hit the mark. If they've fallen short, don't be afraid to give them some constructive criticism. Ultimately, you're enabling future success by providing additional context and clarification.
Delegating isn't always easy, but as John C. Maxwell once said, "If you want to do a few small things right, do them yourself. If you want to do great things and make a big impact, learn to delegate."
Contributed by our Team Member, Erin C