1) Treatings is not just an app, but a community where everyone is open to meeting over coffee to share ideas and opportunities.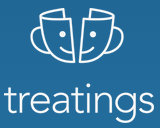 Treating allows users to find collaborators, explore new career paths and meet like-minded people. Here's how it works: (1) Sign up using yourLinkedIn account, (2) Add interests and favorite meeting spots, (3) Browse your matches and message anyone you'd like, and finally (4) Meet up for coffee! For more information, visit. https://www.treatings.co/
2) SaneBox keeps you from drowning in email! Working on top of your email account, Sanebox prioritizes important emails and summarizes the rest.

Nothing to down load, install or learn –it just works. Algorithms determine the importance of incoming emails, move unimportant messages out of the inbox into a separate folder, and summarize them in a daily digest. No training, plug-ins or downloads required-- it works on any email client and service. Other features include helping users process email more efficiently: one-click-unsubscribe, follow up reminders, deferring non-urgent emails, and much more! For more information,visit. http://www.sanebox.com/