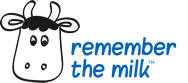 Remember The Milk mobile app allows users to take their tasks anywhere with this feature-packed application. Features include offline mode, ability to sort by priority, due date, or task name, detecting current location to view nearby tasks, and numerous options for reminders, and much more! Use a plethora of devices to integrate Remember The Milk with Gmail, Google Calendar, Twitter, Microsoft Outlook, Apple Calendar, and OS X Dashboard. For more information, visit https://www.rememberthemilk.com.
The all new Microsoft Office 2016 for Mac brings new versions of Word, Excel, and PowerPoint with redesigned, Retina optimized interfaces, new features, and a focus on collaboration and cloud integration. Mac users will appreciate the modernized Office experience and the integration of Mac capabilities like Full Screen view and Multi-Touch gestures. Several major changes like improved Mail Merge for Word, Propose New Ti

me in
Outlook, and support for External Data Connections in Excel have also been added. Office 2016 for Mac is available for all Office 365 subscribers and is officially supported on machines running the latest version of OS X, Yosemite. Office for Mac will be available as a one-time purchase in September. For more information, visit products.office.com/en-us/mac/microsoft-office-for-mac.