Get to Know Gift Guru Kim Shanahan!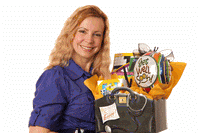 Meet Kim, Founder of Book Bouquet! Book Bouquet is the stylish way to send books to celebrate special occasions. It all began back in 1998 with a goal to make giving books as pretty and easy to do as giving a bouquet of flowers.
Today, Book Bouquet is an e-commerce business shipping book baskets for babies, kids and adults across the United States. Showcasing great books in over 300 unique gifts Book Bouquet is the perfect gift for get well, sympathy, new baby, birthday, and
special days like Mother's Day and Christmas.


Kim is offering our readers a FREE Holiday Gifts Brainstorming Session to take the stress out of the holidays. Schedule your complimentary session here or call 877-800-2665.
Her Advice:
99.9% of human DNA is exactly the same – so exploit your .01% that makes you unique! The best business advice I ever received was to make your business stand out by bringing to it what only you can – YOU. Too many times we try to make our business fit a certain mold, and when we do that we leave ourselves out. It's our humor, quirks, and uniqueness that attracts people to us, and when we leave that stuff out we fail to stand out.
Her Fave Tool:
Google Calendar – add all your Anniversaries, Birthdays, important events to the calendar and be sure to click the "repeat" box. That way you only enter information once, but it will be on your Google Calendar forever.
Connect with Kim:
Website: www.BookBouquet.com
LinkedIn: https://www.linkedin.com/in/bookbouquet
Facebook: https://www.facebook.com/BookBouquet
Twitter: @bookbouquet
Email:kim@bookbouquet.com
Phone: 877-800-2665