I'm Lane Kennedy, Life Liberator & Business Igniter for go-getting women who are ready to break free of "expectations" and comfort zones. I believe that...women can and do change the world, and we do it better when we're doing it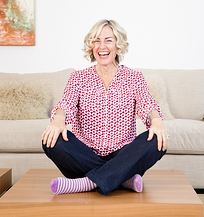 together. With this belief guiding me, I've...
Turned a startup into a legit business that brought in over a million dollars in sales in less than 18 months.
Spun rough sketches of lingerie into a booming business where thousands of garments were being shipped out every year.
Gone off the grid to work for a non-profit in Bangkok, creating a program that served to empower women across three continents and get them off the streets.
Been showing women how to close the gap between where they are in their lives and where they wanna be for the past 20 years.
My mission is...as simple as it gets: To give women a straightforward way to go from helpless to fearless!
I'm also a...foodie, mama, fiction writer, recovering model, bio-hacking freak and Beatles-lover. Oh, and I can't live without...hot yoga, meditation, prayer and music.
Want to jump in for an adventure and start living more boldly? Then Signup for 19 days of Simple, Liberating Opportunities to Change Your Life!
http://lanekennedy.com/straightforward-challenge/

Share a personal lesson learned that you feel would benefit our readers.
I am not a fan of advice, but I love experience! I can share my experience all day long about business. One quick experience I can share is when going into business with a partner, be absolutely positive that they have similar "life" morals, ethics, or values. I didn't think this would effect me, but in the end my partners values, "life morals" changed my perception of her and ultimately drove a wedge between us. It was something I didn't expect or realize would even come into play, I was devastated by it, as I truly admired her in so many ways. I am one of the most down to earth, open minded accepting people, but I realized my values are not like everyone else's. It would have made a huge difference if I had listened to my initial instincts when we were hashing out big conversations about "life."
Share a favorite resource with our readers that aligns with your area of expertise.
I love http://www.boomeranggmail.com/ it takes care of my constant nagging email responses, shuffling, and managing… game changer for time management.
URL: http://lanekennedy.com
LINKED IN https://www.linkedin.com/in/lanekennedy
FACEBOOK https://www.facebook.com/lanekennedylevy
TWITTER https://twitter.com/lanekennedy
EMAIL connect@lanekennedy.com
PHONE 415-340-2886