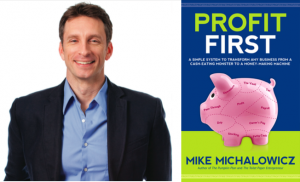 To know him is to love him! Meet Mike Michalowicz, acclaimed author of the revolutionary new book, "Profit First." In this video interview, Mike shares his backstory of how he fought his way to built two successful companies; all culminating to eventual authorship of new cult classics: Profit First, The Pumpkin Plan and the Toilet Paper Entrepreneur.
He explains the foundational steps to implement Profit First in your business, and why this mentality is such a revelation to entrepreneurs around the world. Through his latest organization, Profit First Professionals, he connects entrepreneurs and business owners to skilled professionals who can guide you through the nuances of creating a Profit First based company. It's your business, take your profit first!
Enjoy!
Click here for more on Mike or to download the first 5 chapters of his Profit First book for FREE!