KNOW | TWELVE, FEBRUARY 2019
This New Tax Break Can Make a Big Difference for Small Business Owners
The IRS regulations on Qualified Business Income was a major piece of the Tax Cuts and Jobs Act. This deduction is available for tax years 2018-2025 to eligible individuals, estates, and trusts that own interests in pass-through entities. For QBI deduction purposes, pass-through entities are defined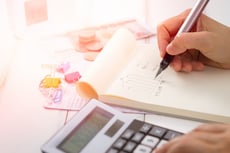 as sole proprietorships, single-member (one owner) LLCs that are treated as sole proprietorships for tax purposes, partnerships, LLCs that are treated as partnerships for tax purposes, and S corporations. While the QBI deduction is available to individuals, estates, and trusts, the proposed regulations refer to all three as "individuals."
Qualified business income means the net of qualified items of income, gain, deduction, and loss from an eligible business that's operated via a pass-through entity. The deduction does not reduce your adjusted gross income (AGI). In effect, it's treated the same as an allowable itemized deduction. The QBI deduction also does not reduce net earnings from self-employment for purposes of the self-employment tax nor does it reduce your net investment income for purposes of the 3.8% net investment income tax. The bottom line is that the QBI deduction regulations are lengthy and complex. This column only scratches the surface of the proposed rules. You may need to employ a tax professional to help you sort through the details and get the best QBI deduction results in your specific circumstances. - MarketWatch
Google Is Finally Raising G Suite's Price
Google's browser-based productivity tools such as Docs and Sheets were free when they were first introduced. However in 2007 Google launched what is now known as G Suite, the premium version

of it's Google Apps service. The service cost was initially $50 per user per year but in subsequent years, it added a $5-per-month option and advanced versions of the suite at higher prices. But the core service has never seen a monthly price hike until now.
Google is eliminating the original $50 per year price for G Suite Basic and will begin charging from $5 to $6 a month per user while G Suite Business, which adds functionality such as the ability to set retention policies for email, will go from $10 to $12. Only G Suite Enterprise, which is $25 per user per month, will stay unchanged. The new pricing takes effect on April 2; existing subscribers will only pay the higher price when their current agreements end.
In explaining the higher fees, Google says that it's been aggressive about adding new apps, features, and benefits (such as increased storage) over the years, so the suite will still offer plenty of value even at the new pricing. - Fact Company

3 Things Small Business Owners Should Know for 2019
To help small business owners understand changes brought about by changes in federal and state laws, here are three things owners need to know for 2019:
1. Tax filing season. Many business owners who are sole proprietors, partners and shareholders in S corporations will be trying to figure out if they can claim the 20 percent deduction for qualified business income. Owners who didn't do year-end tax planning may want to consider getting an extension of the filing deadline for their returns to give themselves breathing room. You can learn more about the new tax law and how to get an extension on the IRS website, www.irs.gov .
2. Internet sales tax. The majority of states have enacted laws requiring retailers who sell in their states to collect sales tax even if they have no physical location like a store or distribution within the state. Search online for more information on software or services to help you navigate these changes.
3. California's Consumer Privacy Protection Act. The law, which potentially affects thousands of companies located outside of California, requires businesses to disclose what they do with consumers' personal information, and gives consumers more control over what happens to that data. The law takes effect Jan. 1, 2020, but companies must be in compliance with some of its provisions before the end of 2019. You can search online for more information; some law firms have written primers to help explain the law. - Daily Journal