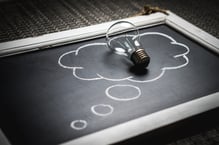 1 - Start small, build confidence. Focus on compartmentalizing larger tasks and projects into small parts to build your own confidence around delegation. Do you want to hand off your calendar scheduling? Don't get overwhelmed by the big picture of doing so; instead segment it out. Ask yourself which part of my schedule could be most easily delegated or automated? Perhaps a first small step is to deploy a scheduling tool for your internal team meetings only. Just this shift alone will help you add framework to your day by creating specific blocks of time you are available to meet, and it takes the back and forth out of when to meet. Grab the small wins! It still equates to time saved, and you'll build confidence in this phase.
2 - Get comfortable with 80%. As you expand your confidence and competence around delegation and begin to compartmentalize your projects, you will start to understand that having someone just START something for you is a win. Get the delegation going with a tool like Strategic Coach's Impact Filter to brainstorm success criteria. Hand it off to your delegation resource and let them bring it to life. You've now created momentum to move forward some of your larger picture ideas in a meaningful way without your involvement in the full project. When it comes back to you, all that remains is your 20%- final tweaks and special touches. Huge win using this mindset!
3 - Commit to the boring stuff. The boring stuff makes up at least 50% of your business and it is important! This back office BS is the backbone of how you deliver what you do in an effective, unique way and creates scale. By ignoring it either because it's not interesting or a competence for you is not serving your vision. The beauty about delegation is that you're not charged with doing it or hammering out the details to bring it to life. You simply need to be able to articulate your operational vision and understand that your ongoing commitment to the process of delegation is critical. Many times, just like in your entrepreneurial visioning, it may take many iterations of an administrative process to find the right solution. The key here is your acceptance and support of that process to work through the kinks.
Remember, delegation is a critical growth strategy, but not a one-shot silver bullet! It requires an ongoing commitment from YOU to leverage it to really create impact in your business.
You might also be interested in:
10 things you can delegate this summer
Case Study: Delegation Consulting
Delegation for Entrepreneurs: It's all about the Mindset!