Recent Trends: Virtual Assistants
Contributed by our Team Member, Kaurie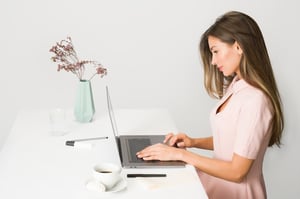 It's no surprise to anyone that the number of people working remotely in2020 has grown astronomically. While many businesses and employees work from home because of the pandemic, there is a special faction of employees, freelancers, and contractors who have long been remote workers in a virtual assistant role. These lucky folks did not need to transition quite so dramatically as many full time, location-based employees had to this past spring. Rather, they kept moving along and largely found their demand increased.
A few quick statistics:
A virtual assistant can save up to 78% of a business's operating costs in one year.
91% of virtual employees reported feeling more productive when working at home.
Throughout an eight-hour workday, an average salaried worker is only productive for about two hours and 53 minutes.
A virtual assistant working for only 2 and a half, fully productive hours every day, will save money on salary and on the overall scope of the job.
Business owners and entrepreneurs are freed up from overhead and management to focus more on building their business, being strong leaders, and strategizing ways to increase revenue. Tim Ferriss, famed author of the 4 Hour Workweek, credits virtual assistants as the key for him to scale his business while working less.
With the ongoing development of Intelligent Virtual Assistants (i.e. Amazon Echo, Google Assistant) and the increased ability for (human) assistants to work remotely, their demand and marketability will only continue to grow. Technology in this case, will not take away jobs from current virtual assistants, but rather increase productivity and allow them to focus on the aspects of their employers' business that can be grown past what the entrepreneur ever imagined.
Sources: