HELLO | TWELVE, FEBRUARY 2021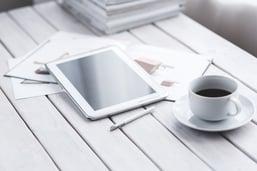 Hello from snowy Philadelphia! Here in my area we got nearly a foot of snow from a storm that lasted for several days. We have really been enjoying the beauty of it, and my son even got a "snow day" in the midst of online learning, which he thoroughly enjoyed! :)
I've been personally enjoying a part of my business that I wish I'd had the guts or foresight to enjoy earlier in our journey. This past year, we have taken GREAT care to go super deep and pure with our implementation of EOS® into the business; paying special attention to our accountability chart, cascading messages and pushing rocks deep through the organization. This focus has been transformational for us, because it's allowed our team to start to "own" their seats in a way I've never seen before. We were able to do this simply because we chose to step out of the day to day and really allow the team to step in to their roles in a beautiful way.
As Founders, it's so natural for us to want to keep a death grip on everything coming and going within the business. But the release through accountability and shared vision has created the confidence in me to let go and really watch my team rise to the occasion; through their contributions, their opinions, their ownership, mistakes, perspective, all of it. It's like watching magic before your eyes when you have the right people in the right seats working towards a shared vision. We are truly building a legacy organization that runs (and thrives actually) without me solving every issue or chiming in on best next steps. For me, it's been part of my learning journey as the Founder, but if I were to form my company again, knowing what I know now, I would structure as a team from day 1 in a way that empowers and engages every seat on the Accountability Chart.
Teamwork truly does make the dream work!
Emily