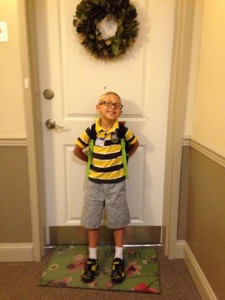 Welcome September! This month to me represents the start of all things awesome: FALL, back to school, football, pumpkin spice lattes, hayrides... It's a cherished time of year. My son, Nathan started second grade this week and we are all glad to be back on a regular schedule! Check out his back to school pic on the left.
September, like January seems to have that natural air to push us to re-start and re-focus. With Q4 on the horizon it's a great time to garner momentum and energy going into the last quarter and attack those outstanding 2014 goals.
As the leader of your company, your day is probably largely spent identifying and managing priorities. Like you, this is always incredibly challenging to me. But it is a reality that if we are to be truly effective we must consciously discipline ourselves in this area. Below are three strategies that I am using to keep our goals progressing at Delegate:
1- Stop being busy and start being productive:
I start every week by identifying my top 3-5 priorities for the week. Everything else is just a distraction and should be delegated or tabled for later. If I'm stuck in the chaos, I re-center by revisiting my quarterly goals that I've already identified. I break these goals down into steps and assign responsibility to my support team.
I have an accountability group beyond my team that I check in with every on Mon and Fri to share what I am working on for the week and share whether or not it's been completed. These ladies have been by my side for years and help keep me energized and focused (thanks Kim and Kat!). Looking for this kind of support system? Check out a favorite resource: Savor The Success.
2- Make the time:
What we focus on is what we get done. I block time on my calendar to get stuff done related to my priorities. If I don't do this I literally could work all week and get absolutely nothing important done. We have a great article on time blocking techniques that you can follow to implement today.
Beyond the weekly time blocks, be sure to set a date(s) on your cal next quarter to do your 2015 planning.
3- Share the responsibility:
I share and design our quarterly goals with my management team. Each week when we hold our management call we all share our priorities for the week based on these established goals.
I delegate as much related to my priorities as possible. As an entrepreneur you will forever have a to-do list. Let go of what won't get done or delegate it if it's mission critical.
Get momentum by completing tasks on your list that are almost there. Writing the check mark is therapy in itself!
Remember that managing and protecting your time is an art, not a science. In our experience it's really about consistent, intentional steps! Here's to creating a great Q4 and using it as a springboard into 2015!