Taking the Proactive Approach | Virtual Assistant 101


Contributed by our Team Member, Stephanie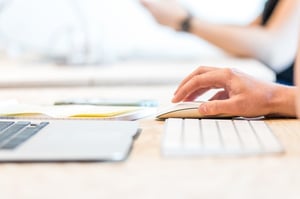 When you think of the combination of highly sought-after qualities that a virtual assistant should have, one quality that should always be high on the list is being proactive. No matter the task, an above-and-beyond virtual assistant should always go the extra mile to make their client's life easier. How do you spot an excellent virtual assistant who uses a proactive approach when searching for the right fit for your organization?
One Does Not Simply Wait
How you utilize your virtual assistant is highly dependent on how you run your business. This will be something that you and your virtual assistant will learn together as to how you best want them to support you and your business needs. What I like to refer to as an above-and-beyond assistant is one who naturally takes into account the needs of the client and how they run their business and one that learns quickly the client's preferences. Once the virtual assistant learns the preference of their client, they then take charge on looking ahead to see what is needed instead of waiting to be asked to do a task. An example of this would be reviewing the weeks/months ahead of the client's schedule to alert them of holidays, birthdays, scheduling conflicts to stay alert and on top of items so their client doesn't get behind or miss important dates.
Taking A Larger Leap
Operating a business is not only exciting but stressful as it takes a tremendous amount of time and a giant leap, knowing that failing time and time again is normal on the road to success. During this high stress time and even beyond, a virtual assistant is paramount to handling back office support, business support services, and project management. An above-an-beyond virtual assistant, always looks at all the steps in a business process, all the small details in projects and events, to be sure nothing is missed so that it isn't on the mind and stress of their client. An example of this would be the event management of details for their client if he/she is hosting a webinar. The virtual assistant would be sure that the panelists have all received communication on their unique login, the best practices for being a panelist, and other like tasks. This is what makes a virtual assistant who excels at proactive approach vital.
Efficiency is the Road to Success
One of the easiest but hardest ways on the road to success is efficient processes. Having a virtual assistant who is skilled in project management, time management, and business support services is an invaluable asset. A virtual assistant will have the knowledge of the best and most efficient business process practices to complete administrative tasks. They have the skills at understanding the large scope of the project or business need with the ability to see the minute details which are, at many times, the keys to success, as being sure those tasks are completed on time can make or break a deal. An excellent virtual assistant will be able to review all business processes and tasks to provide suggestions as to how to increase effectiveness and efficiencies. This will ease the stress for the client and allow the client to focus on the strategic purpose and mission of their business.


Accomplishing the Goal
The goal of a client is to be successful in their business and have the best people working for them so that their business runs itself with little oversight. This is where an above-and-beyond virtual assistant's support can prove priceless. They are knowledgeable and are experts in the services that they provide, can work efficiently and effectively, and know which resources to use to make best use of their time. Having a proactive virtual assistant on your team, such as one from Delegate Solutions, will help you on the path to accomplishing your business goals.