KNOW | TWELVE, JANUARY 2020
Small Business Tax Laws for 2020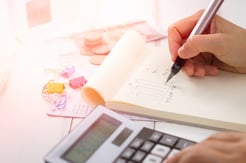 Welcome to 2020! Are you ready for tax season? As a small business
owner, your time is money, and with so much on your plate, we thought we'd bring you a quick overview of changes in tax laws for 2020 that you may not be aware of. In this thorough review from
Businessnewsdaily.com
, we found some very useful tips and updates that apply to most small business owners. Here are some key takeaways:
There are some important deadlines to keep in mind:
S-corps must file their business taxes by March 15.

The deadline for 2020 tax returns is April 15.

Quarterly estimated tax deadlines are due April 15, June 15, Sept. 15 and Jan. 15
Top small business tax deductions:

This isn't a comprehensive list of tax deductions available to small businesses (and you need to ensure that your business is eligible for these deductions). While this list provides potential deductions, it's best to work with a CPA who can ensure you get all of your relevant deductions.
Rent: If you rent your office space or retail location, the cost of your rent is fully deductible.

Home office: If you have a dedicated workspace in your home (it must be regularly and solely used for business), then you are eligible to deduct expenses related to that portion of your home. The simple option is to take $5 per square foot up to 300 feet, but you can break it down as a percentage of the total square footage of your home and itemize your costs related to the space.

Advertising: Promoting your business not only helps grow your business, but it may shrink your taxes, as these expenses are fully deductible as well. This includes things like business cards, fliers and digital marketing spend.

Vehicle: As long as you can document and verify that the vehicle is used for business purposes, you can deduct the operation costs. Like the home office deduction, you can choose to use the simple deduction, which is 58 cents per mile as of 2019, or you can itemize specific costs.

Utilities: The basics of keeping your business running are fully deductible as well. This includes electricity, water, heat, internet and landline.

Travel: Business travel costs are fully deductible. This includes any flights, hotels and other transportation costs you incur while on a business trip.

Employee salaries: Paying your employees pays off. Their salaries, along with many benefits like retirement and education offerings, are tax-deductible.
There is a wealth of additional information in the article, so we highly recommend you check it out here:
6 Tips for Hiring at Your Small Business


We found this article on Entrepreneur.com especially helpful as it relates to smart hiring for your small business. Here are a few key takeaways:

1. First things first: meet state and federal regulations.
The rules are different when you start hiring employees. Get started with these hiring steps from the Small Business Administration. You may also want to network with fellow owners of growing small businesses to share advice on the most helpful accountants, background check providers, and so on.
2. Let your brand's personality shine in the job description.
If you're not yet a well-known brand and you're trying to attract the best talent, you must stand out to potential applicants with a wealth of job opportunities at their fingertips.
3. Building a new team from scratch? Consider a group interview.
You may consider bringing in those who'll need to frequently collaborate for a group interview, gauging how well they work together and relate to each other.
4. Be honest about the role's challenges in the interview.
Small businesses have different challenges and opportunities from a large corporation. Be transparent with potential job candidates (without giving away proprietary details, of course) about the hurdles you believe will impact them most in that role. The best employees—the ones you really want to hire—will welcome challenges and look forward to finding solutions.
5. Save the best training knowledge for next time.
Make your life easier and the next round of training faster: save training materials. This can include tax documents to sign, an introductory slide deck about your company's history, templates that all new employees need on their computers, job descriptions, and beyond, all saved on a USB drive or a single "new hire" folder.
6. Think long and hard about the culture you want to cultivate.
Especially at a small business, every employee has a huge impact on culture. One person's creativity, negative attitude, efficiency, or indifference can ripple across the organization. Remember to listen to both your gut and your logic when hiring a new employee—and always choose employees with whom you'll genuinely enjoy working.
Tips for Female Business Leaders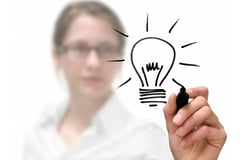 As a female owned organization, we love keeping our ear to the ground on tips and tricks for women in business. We ran across this quick read from inc.com, in collaboration with Capital One and thought we'd share! Here's what we learned:

Trust your gut
It turns out that when our parents told us to "trust our gut," they were right! Decisions should be informed by thoughtful analysis and also importantly from previous experiences, emotions and judgements.
Celebrate the wins, especially if they're small
The big wins aren't the only ones worth celebrating; all wins should be considered important. Katie Conovitz, founder and CEO of twelveNYC, notes that "success has always been about moving the needle forward. I made a lot of sacrifices but tried to take the time to share all types of wins with my team along the way." Conovitz believes business leaders need to allow their teams to be a part of the wins since they are also a part of their success. Surprising the team with coffee, taking them to lunch, or celebrating over a happy hour are small ways to show employees how they are a part of progress.
Patience is also a virtue in business
Unquestionably, there will be ebbs and flows in business; and you may be well served to ride them out. Success doesn't always happen overnight so it can be important to not give up while continuing to evolve and focus.
Build your business around the life you want
In a study by the Harvard Business Review, workers ranked flexibility as a close second to health care when looking at the most desirable job benefits. Which makes sense that women business owners often cite flexibility as a key reason for venturing onto the entrepreneurial path. Who wouldn't want to create work-life balance?
Keep your eye on your own ball
While it's essential to be aware of your competition, focusing too much on what others are doing may cause you to lose sight of what makes your business unique.
Lean on experts for support
Aim to be a generalist and talent magnet, hiring people who are the best in their fields for the areas they lead. People like attorneys, accountants and business bankers can also be invaluable resources to address specific questions and concerns. They also have extensive networks and can often point you in the direction of suppliers or other business owners.
- INC