We recently invited Teambuilding.com to host our team's virtual happy hour. They specialize in - you guessed it - virtual team building activities for remote teams. Now, we've always been a remote team - Delegate Solutions was founded in 2007 by Emily Morgan as a fully remote and flexwork company. So, we have always had a robust remote work culture linked to our core values and embraced by our team. However, during these challenging times of high anxiety and stress, we wanted to try something new to engage our team, enhance our culture ...and to just LAUGH for an hour or so.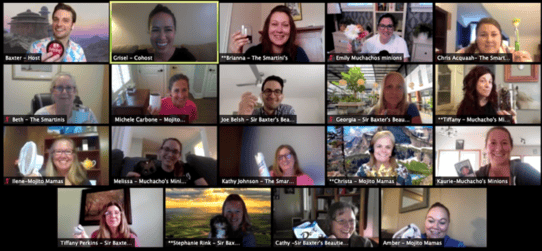 Armed with a "No Hype" buzzer (used for both encouragement and punishment!) and donning a shirt covered in colorful cockatoos, our high-energy host, Baxter, and co-Host, Grisel, kicked off the Online Office Games fun by splitting us into four teams in Zoom breakout rooms. Baxter and Gisel shared the rules of the game and how we could get bonus points to win.
To start, we were tasked with 1) picking a team name, 2) picking a team reporter, and 3) identifying the MOST unique thing everyone on our team had in common. #1 and #2 were easy but #3 required a bit of "digging" and was a great way for the teams to get to know each other on a deeper level. To determine what people had in common, discussions centered around questions like, "Where have you traveled?", "Do you have any tattoos and if so how many?", What's your favorite cocktail?", " How many kids do you have?", " Do you have any pets?", What's your favorite food?", etc. At the end of the 1st breakout session our remote team was transformed into 4 smaller teams: The Smartinis, Mojito Mamas, Muchacho's Minions, and Baxter's Beauties + 1.
For the rest of the hour each team competed in a series of fun games including trivia, mind teasers, and other fun activities that brought out healthy competition and teamwork, as well as a lot of laughter. The hour flew by.
Who won? - The Smartini's of course! What did they win? - bragging rights...until next time, anyway!
Our team, like so many, has experienced a variety of challenges over the past 7 months including uncertainty about the future, some getting sick with COVID-19, some becoming caregivers to sick members of their family, and most having to manage virtual learning and/or homeschooling their kids while working, along with many other challenges. These stressors take a toll on workers and sometimes even more so in a remote work environment. Our team happy hour with Teambuilding.com gave us a morale boost and allowed us to engage and get to know each other better in a structured, yet really fun way.
What are you doing to engage your team and build your remote culture?
Contributed by Christa Hurchalla