HELLO | TWELVE, SEPTEMBER 2018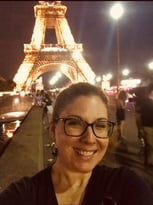 Peace out summer! I turned 40 this summer, travelled around Europe and hit some really exciting milestones in my business; so it was a pretty epic summer for me! Hope you are sliding into Fall feeling equally as energized. There was no greater feeling for me than to be able to travel, completely disconnect and know that my team had things covered in my absence back at Delegate. Taking this break PROVED that it was possible. Nothing blew up, nothing came up that they couldn't handle and they happily rose to the occasion!

How were we able to do this? Delegation (of course) is the easy answer. But the more complex answer is that we have spent alot of time, energy and money getting the business organized to run without me. We've applied principles and tools from Strategic Coach® (a program to help you create a self-managing company) over the years to build out a team that is built around Unique Ability and processes that run independent of me.
The other critical thing we did to tighten up the business was to FULLY deploy EOS®. EOS® (Entrepreneur's Operating System) allows us to build with simplicity, intention and focus. Each quarter we set Rocks (focused, accountable goals for our team) which creates discipline and ownership so that everyone is executing on the same vision. Through the help of our EOS Implementer™- Mark O'Donnell - we tightened up and refined our Accountability Chart so that everyone knows who owns what. I have found that anytime there is some kind of issue, we usually discover it's because no one owns it!

While I was away, I also realized that there is still one key recurring part of the business that does require me to run smoothly. Over the next year, I will start working on how to make it run without me! Will be focusing hard on that and share with you how I do it.
Have an awesome month!
Emily
We are not affiliated with EOS Worldwide®