DS Expert Chat:
The Gift of a Joyful Brand
We chatted LIVE with Laura Meyer, Founder of JoyBrand Consulting .We discussed Laura's entrepreneurial journey, what a joyful brand is, and why it's so important to focus on joy when building a brand.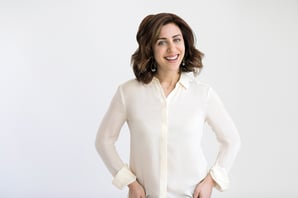 Laura Meyer is an expert of experts - helping thought leaders, influencers and mission-drivenentrepreneurs create profit growth, effective marketing and brand strategy from their zones of genius. As a serial entrepreneur who has spent 15 years scaling multiple six and seven-figure online and offline companies, she found herself at total loss and having to start over again just two years ago relying on her own expertise. From there, she quickly grew a consultancy helping high-impact women create brands that make a difference in the world.
Driving results that go beyond "likes," "shares," and "going viral", Laura utilizes her proven framework based on her deep knowledge of marketing and brand strategy to help female expert entrepreneurs stand out from the noise and connect the hearts and minds of their ideal audience.
As a lifelong student, Laura has completed the EOS/Traction online facilitation training, Building A Storybrand, Ask Methodology, Facebook Page Growth Strategies, Tribe Online Membership and is certified as a Frank Kern SANDOR consultant. Her advice has been featured in Inc, Entrepreneur, Forbes, Success Magazine and Working Mother.
Outside of work, you can find Laura soaking in family time with her family of five in southeast PA where she serves on the Board of Directors of Make-A-Wish greater Philadelphia. In her spare time, Laura loves to Zumba, fly her drone and when no one else is home (which is rare!)... kick up her feet and binge-watch HGTV.