LEARN | TWELVE, JANUARY 2020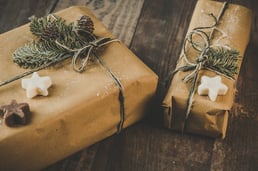 Do you ever find yourself thinking you should show your clients some appreciation in the new year, but can never come up with any good ideas or plan of execution so you just give up? Or you start off strong at the beginning of the year only fizzle out by second quarter? Well, you aren't alone. You are very much like most of our clients.
Don't worry, we also have a plan for this too!
To keep you organized, motivated, and keeping contact with your clients all year long we have come up with an easy way and effective strategy.

1. Set aside a few hours a month to work on your Top 20 list. This list may be ever changing. These are your best clients that you want to stay in contact with all year long. They may be the ones that make you the most money or just the ones that appreciate you the most and give you the best referrals. Need help getting started? Check out our blog about how to identify your top 20 here.

2. Keep your Top 20 in a spreadsheet. I find a Google Doc to be best so others can collaborate. Once your list is created, create tabs along the bottom of the spreadsheet and label for each quarter. This will allow you to pre-plan for your quarterly touchpoints ahead of time and visually see who you have sent to or reached out to. Make sure to add in mailing addresses on the main page to keep everything in one place and make the process as easy as possible for everyone.

3. Setup a plan. I suggest reaching out to your clients with a card, email, or phone call letting them know you appreciate them in Q1 and Q3 and sending a token of appreciation in Q2 and Q4 (around the holidays). Plan for the next quarter at the middle of the previous. For example, you should be planning for Q4 client gifts in the middle of Q3. This alleviates the stress of rushing and feeling overwhelmed.

4. Brainstorm gift ideas. Imagine edibles & perishables to custom labeled drinkware, bottled wine, champagne, or anywhere in between. I find it important to look at options that people will truly appreciate and not toss in the trash. The point is to make them feel special and wanted after all! Two of my favorite places for client gifts are:
Now that you have your top 20 list and we have helped to create a plan, you can sit back and relax while we execute it! Your customers will be feeling the love all year long.
Contributed by our Team Member, Keela