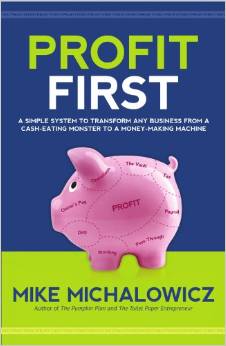 Looking for a quick, fun summer biz read with maximum impact for your bottom line? Be sure to check out Mike's new book, Profit First. The title says it all!
Revenue - Profit = Expenses
Say what?! That equation goes against everything we've been taught about how to manage the finances of our business! In Profit First, Mike Michalowicz, author of The Pumpkin Plan & The Toilet Paper Entrepreneur, suggests a different approach, one that works with human behavior. Instead of putting sales and expenses at the top, put sales and profit at the top. What gets measured gets managed. Start putting profit at the top, and you will start managing profit. Finally.