On April 25th from 2PM-2:45PM EST, join Emily Morgan, Founder and President of Delegate Solutions for an insider's workshop on how to improve your company. Emily will act as your speed coach to walk through step by step solutions to allow for delegation and automation to bring your company to the next level. Find out the importance of having good process and the wonders that it can have for scaling YOUR business to ultimately allow your company to run itself!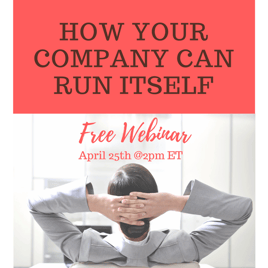 Register today for this 45-minute, content-packed FREE live workshop and webinar (including a 15-minute Q&A)!
Who it's for:
Time-starved CEO's

trying to expand their companies and appeal to more clients

Overworked Entrepreneurs

hitting a wall in their growth and unsure what to do

Business owners

who are trying to figure out how they can improve their team's workflow
What we'll cover:
How having a solid process can differentiate your company from competitors

How to delegate and build YOUR process that will help evolve your company successfully

How "front-stage" and "back-stage" processes can develop your clientbase and expand your capabilities

How to delegate and automate your tasks, identify problems, and provide solutions to allow your company to run itself

*A link to the webinar replay will be sent to all who register.