HELLO | TWELVE, JANUARY 2020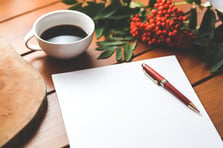 Happy Friday and welcome to the start of a whole new decade together! I hope that you enjoyed some much-deserved downtime with your friends and family. December is always a crazy time for me, because it's my son Nathan's birthday! This year he turned... 13...!!! I was also able to spend some time with my family up in the Poconos for a full-family trip with my parents, sisters and their families relaxing together.
Like you, I love the start of a New Year, and I love resetting goals and mindsets to focus on. I asked around, and many of my friends are focusing on themes like: gratitude, peace, determination, grace, intentionality, prayerfulness and healing. My theme for 2020 is SIMPLIFY. What does that mean to me? Less "stuff" and more "space." Minimizing the "clutter" of life in every area. Simplifying my business, my home, my belongings, my time and re-focusing only on what brings me joy. What's your theme for 2020?

Wishing you a peaceful and happy New year!
Emily