LEARN | TWELVE, OCTOBER 2018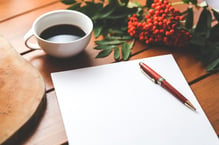 Weekly leadership meetings are important to the health of any organization, but are often times counterproductive and frustrating, with agenda items that don't matter to everyone on the team, and potentially lingering action items/issues that no one claims/handles, etc. What if we told you there is a better way to manage your weekly leadership meetings?
At Delegate, we work exclusively with entrepreneurs, many of which run their business with EOS® (Entrepreneur's Operating System®-- You can learn more here about EOS® tools). We have noticed something refreshingly different about the way these teams operate as a whole, but in particular, in their weekly meetings. EOS® entrepreneurs utilize a tool called the Level 10 Meeting™, which as efficiency experts, we embrace! The format is so simple it's mind-boggling, but the effectiveness of the simplistic approach is unparalleled! When the agenda EOS® provides is followed, the Level 10 Meeting™ allows structure to rise out of chaos, and creates synchronicity, progress and a sense of control within organizations.
The most valuable portion we find in this agenda style is the IDS List™ (Issue/Discuss/Solve) portion of the meeting. Everyone leaves the meeting on the same page with issues having been discussed and SOLVED- not put on a back burner for the next meeting, but rather truly SOLVED with a clear action plan to move forward. This helps the organization move forward and not stagnate on old issues, and we love it!
If you are interested in learning more about EOS® and the many tools that come along with the program, please visit www.eosworldwide.com for a wealth of free information and the opportunity to set-up a meeting with an EOS Implementer™ to find out how EOS can make a difference in your organization. Having seen the difference EOS has made for our clients, we highly recommend it! We highly recommend Mark O'Donnell of the Accountable Coach if you are looking for an amazing Implementer. Mark is the Implementer that we work with here at Delegate.
If you are looking to implement EOS® in your business or have tried to, we have an upcoming webinar that you might be interested in.
Who it's for:
Time-starved CEOs and Visionaries

trying to get their team more quickly aligned around EOS®

Overworked Entrepreneurs

hitting a wall in their EOS® adoption and unsure what to do to move forward

Integrators

who want to improve their team's workflow using EOS®
Register now to save your spot. We are bringing the delegation expertise to EOS to help you gain more Traction® with the amazing power of EOS inside of your organization.


UPDATE (11/14/18): Our live webinar has come and gone, but you can still gain access to it by requesting a copy of our webinar replay. Just click the image below!

Contributed by our Team Member, Rebecca
We are not affiliated with EOS Worldwide®