KNOW | TWELVE, MAY 2019
More Than 90% of Small Businesses Will Increase Advertising Spending in 2019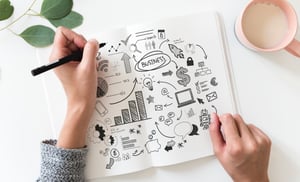 Most Small Businesses Are Prioritizing Advertising This Year and Will Increase Spending on Social Media Advertising (56%) and Other Online Advertising Mediums Such as Google Search and Banner Ads (41%). A large percentage (91%) plan to invest more in advertising in 2019, according to a new survey from The Manifest, a business news and how-to website.
Each year, more than half of small businesses (57%) spend less than $50,000 on advertising, the survey found. Increased spending on advertising will help small businesses spread brand awareness and stand out among their competition.
Although ads costs money, a successful advertising strategy helps small businesses make money in the long run. About one-third of small businesses (32%) say their main goal for advertising is to increase sales and revenue.
Overall, the survey shows that advertising is a beneficial investment for most small businesses and that businesses will continue to allocate time, money, and resources toward advertising.The Manifest's 2019 Small Business Advertising Survey included 529 small business owners and managers across the US.
To learn more about how Social Media and Digital advertising can help you increase profitability and grow your small business, check out this great read! - MarTech Series
Crucial HR Compliance Tips for Small Businesses

Hiring an employee for your small business brings many emotions. You're proud, because you're successful enough and can afford the extra help. You're anxious, because – what if you can't find the right person? You're confused, because you don't actually know what you're doing when it comes to paperwork, policies, etc.
Whether you just opened a business, bought an existing one, or are rapidly growing your client base, human resources play a huge role in shaping your company. HR functions help keep you compliant and keep your employees happy.
This informative article provides practical, no-nonsense advice for even the most HR-wary small business owners and outlines guidelines for things such as:
The Hiring Process & Successful Onboarding
HR Compliance for Businesses of All Sizes
Key HR Management Terms (and what they actually mean!)
Benefits Management
Performance Reviews Done Right
What to Do When an Employee Leaves
What Makes a Great Boss?
Great bosses are rare. But it's really not that hard to be one. Employees appreciate a leader who's respectful, supportive, honest and compassionate, according to an informal survey of CNN Business readers. And most of all, they don't like a micromanager. If being a great boss is something you aspire to, or just secretly wonder if you are, check yourself against these five characteristics.
Trust your employees to do their jobs
Respect the people who work for you
Support their success and have their backs
Be open, honest & a good listener
Show compassion and caring
Other than winning their employees' praise and appreciation, great bosses set the bar for excellence for the rest of people's careers. Check out this great article for more insight from an employee's perspective, and ask yourself what YOU can do to make your workplace one your employees are invested in. - CNN Business