We believe at Delegate that the power of one is expanded by the strengths of many. Our mission is to help you do more of what you love to have an even stronger impact on the world.
Each quarter in addition to our team-wide contribution to our selected charity, we select one team member and support their favorite charity through donation and promotion.
Team Member Ela's Charity of Choice: She Should Run

"As someone who has been passionate about a woman's ability to vocalize her interests and preferences, particularly in politics, the organization of my choice is, She Should Run. The charity I have selected is one near and dear to my heart. Something so uniquely special here in Delegate Solutions is that it is a woman-owned, female-empowering company that builds women and men to see their greatest potential - and the same is for She Should Run.
As a non-partisan 501(c)3, it provides a starting place for women looking to lead and grow, to network and develop, so that they can prepare to run for office or support different candidates of their preference. It is a beautiful organization that, like Delegate Solutions, celebrates the abilities and potential of women in different tasks and environments. The different avenues of getting involved are extensive and exciting and certainly a treat to take part of." - Ela
A bit more about this awesome charity: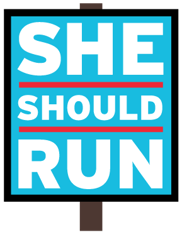 She Should Run

was founded in 2011, their mission is to expand the talent pool of women running for office in the United States by providing community, resources, and growth opportunities for aspiring political leaders. They believe that women of all political leanings, ethnicities, and backgrounds should have an equal opportunity to lead in elected office and that our democracy will benefit from the varied perspectives and experiences that women bring to leadership.
Would you like to donate to She Should Run?
Donate Now